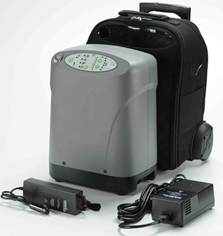 Devilbiss iGo Portable Oxygen Concentrator ,USA
Regular price 0.000 JD Sale
Reliable Portable Oxygen On The Go
The iGo Portable Oxygen System is a lightweight,
three-liter oxygen concentrator that is capable of
operating from three different power sources:
AC Power, DC Power, or Rechargeable Battery.
The DeVilbiss iGo has been put through
aggressive durability testing to ensure consistent,
reliable performance. The iGo is the perfect
solution to keep pace with an active lifestyle.
This small, portable oxygen system provides
two modes of operation – continuous flow or
PulseDose® delivery.
The reliability and safety of PulseDose oxygen
delivery has been proven effective in clinical
testing as well as through independent tests
performed by physicians and respiratory therapists.